Overview
Peptic ulcers are open sores that develop on the inside lining of your stomach and the upper portion of your small intestine. The most common symptom of a peptic ulcer is stomach pain.
A peptic ulcer is a sore on the lining of your stomach, small intestine or esophagus. A peptic ulcer in the stomach is called a gastric ulcer. A duodenal ulcer is a peptic ulcer that develops in the first part of the small intestine (duodenum). An esophageal ulcer occurs in the lower part of your esophagus.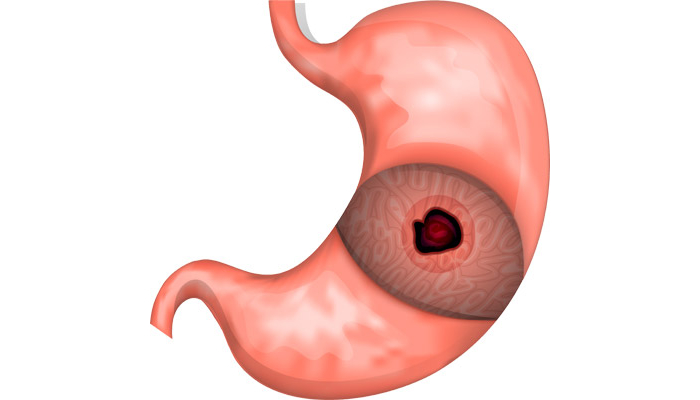 Causes
Peptic ulcers occur when acid in the digestive tract eats away at the inner surface of the stomach or small intestine. The acid can create a painful open sore that may bleed.
A bacterium. Helicobacter pylori bacteria commonly live in the mucous layer that covers and protects tissues that line the stomach and small intestine. Often, the H. pylori bacterium causes no problems, but it can cause inflammation of the stomach's inner layer, producing an ulcer.
Regular use of certain pain relievers. Taking aspirin, as well as certain over-the-counter and prescription pain medications called nonsteroidal anti-inflammatory drugs (NSAIDs) , can irritate or inflame the lining of your stomach and small intestine. These medications include ibuprofen (Advil, Motrin IB, others), naproxen sodium (Aleve, Anaprox DS, others), ketoprofen and others. They do not include acetaminophen (Tylenol, others).
Other medications. Taking certain other medications along with NSAIDs, such as steroids, anticoagulants, low-dose aspirin, selective serotonin reuptake inhibitors (SSRIs), alendronate (Fosamax) and risedronate (Actonel), can greatly increase the chance of developing ulcers.
Risk Factors
In addition to having risks related to taking NSAIDs, you may have an increased risk of peptic ulcers if you:
Smoke. Smoking may increase the risk of peptic ulcers in people who are infected with H. pylori.
Drink alcohol. Alcohol can irritate and erode the mucous lining of your stomach, and it increases the amount of stomach acid that's produced.
Have untreated stress.
Eat spicy foods.
Symptoms
Burning stomach pain
Feeling of fullness, bloating or belching
Intolerance to fatty foods
Heartburn
Nausea
Prevention
Protect yourself from infections. It's not clear just how H. pylori spreads, but there's some evidence that it could be transmitted from person to person or through food and water.
Use caution with pain relievers. If you regularly use pain relievers that increase your risk of peptic ulcer, take steps to reduce your risk of stomach problems. For instance, take your medication with meals.
Book Your Appointment Today
Book your appointment with Dr. Ujwal Zambare he is having 12 years of experience in Gastro-intestinal surgery, oncology, minimally invasive surgery and Liver, Pancreas, Biliary tract surgery.

Dr. Ujwal Zambare
MBBS, MS (General Surgery), DNB (Gastrointestinal Surgery)
Fellowship in Minimal Access Surgery
Copyright © 2021. Dr. Ujwal Zambare – Liver, Pancreas, Biliary Tract Surgery Specialist in Pune. | All Rights Reserved.
All Text and Images is for information of Patients and Public and doesn't replace medical practitioners advice. Visit doctor for medical advice.