Overview
Incisional hernias can develop after abdominal surgery. They happen after up to 15 to 20 percent Trusted Source of abdominal operations involving incisions. Certain factors may increase or decrease your risk for developing an incisional hernia.
An incisional hernia happens when a weakness in the muscle of the abdomen allows the tissues of the abdomen to protrude through the muscle. The hernia appears as a bulge under the skin and can be painful or tender to the touch. The weakness in the muscle is caused by the incision made in a prior abdominal surgery.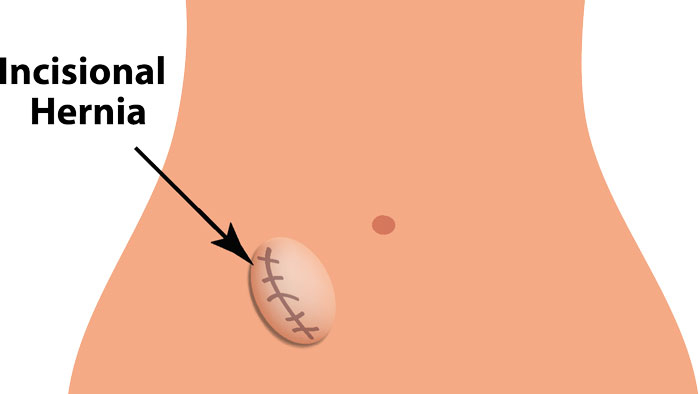 Risk Factors
Several risk factors can increase the chances of a hernia developing after surgery, including:
wound infection
existing health conditions, such as renal failure, diabetes, or lung disease
obesity
smoking
certain medications, including immunosuppressant drugs or steroids
What Are the Symptoms?
nausea and vomiting
fever
burning or aching near the hernia
abdominal pain and discomfort, particularly around the hernia
faster heartbeat than usual
constipation
diarrhea
thin, narrow stool
What Causes Them?
Incisional hernias happen when the surgical cut in your abdominal wall doesn't close properly after surgery. This can cause your abdominal muscles to weaken, allowing tissue and organs to form a hernia.
Several things can prevent the surgical cut from healing properly, including:
putting too much pressure on your abdomen
becoming pregnant before the cut fully heals
getting back into physical activities too soon after surgery
How Are They Treated?
If you have a small or reducible hernia, you may be able to safely delay surgery. Your healthcare provider will consider your medical history and other factors when deciding if surgery will repair the hernia. If your hernia causes little or no discomfort, it may be safe to watch the hernia and wait before having surgery. It's important to note, though, that operations for larger hernias can be more difficult than operations for small hernias. If you do forego surgery, your healthcare provider may fit you for a special belt that helps to keep pressure on the hernia, preventing it from sticking out.
Book Your Appointment Today
Book your appointment with Dr. Ujwal Zambare he is having 12 years of experience in Gastro-intestinal surgery, oncology, minimally invasive surgery and Liver, Pancreas, Biliary tract surgery.

Dr. Ujwal Zambare
MBBS, MS (General Surgery), DNB (Gastrointestinal Surgery)
Fellowship in Minimal Access Surgery
ujwalz53@gmail.com     +91 9815994279
204, 3rd Floor, Seraph Centre, Opp. Axis Bank, Near Panchami Hotel, Off Pune – Satara Road, Pune – 411043.
Copyright © 2021. Dr. Ujwal Zambare – Liver, Pancreas, Biliary Tract Surgery Specialist in Pune. | All Rights Reserved.