Overview
Esophageal cancer is cancer that occurs in the esophagus — a long, hollow tube that runs from your throat to your stomach. Your esophagus helps move the food you swallow from the back of your throat to your stomach to be digested.
Esophageal cancer usually begins in the cells that line the inside of the esophagus. Esophageal cancer can occur anywhere along the esophagus. More men than women get esophageal cancer.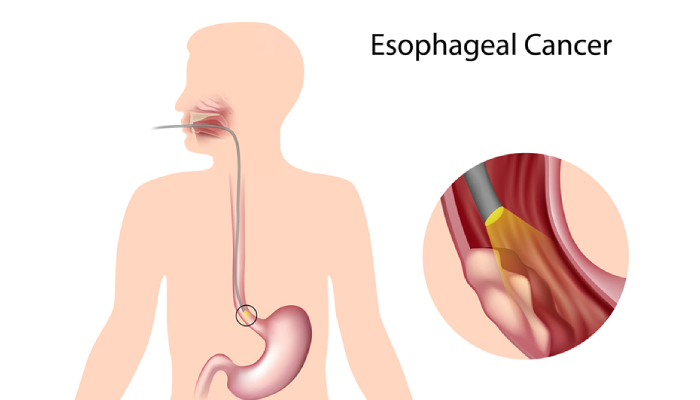 Risk Factors
It's thought that chronic irritation of your esophagus may contribute to the changes that cause esophageal cancer. Factors that cause irritation in the cells of your esophagus and increase your risk of esophageal cancer include:
Having gastroesophageal reflux disease (GERD)
Smoking
Having precancerous changes in the cells of the esophagus (Barrett's esophagus)
Being obese
Drinking alcohol
Having bile reflux
Having a steady habit of drinking very hot liquids
Symptoms
Difficulty swallowing (dysphagia)
Weight loss without trying
Chest pain, pressure or burning
Worsening indigestion or heartburn
Coughing or hoarseness
How Is Esophageal Cancer Treated?
As with many cancers, esophageal cancer treatment has a greater chance of success if the cancer is caught early. Unfortunately, by the time esophageal cancer is diagnosed for many people, it is often already in an advanced stage (has spread throughout the esophagus and beyond).
Treatment of esophageal cancer depends on many factors, including the stage of the cancer and the overall health of the patient.
Surgery. Part or all of the esophagus may be removed.
Radiation therapy. Kills cancer cells with radiation.
Chemotherapy. Powerful drugs that attack cancer cells throughout the body; typically used in combination with radiation therapy and/or surgery.
Targeted therapy. Newer treatments that target specific aspects of a cancer to curb cancer growth and spread.
Immunotherapy. Helps the immune system to attack cancer cells.
Photodynamic therapy. Targets cancer cells with a special laser light.
Prevention
Quit smoking. If you smoke, talk to your doctor about strategies for quitting. Medications and counseling are available to help you quit. If you don't use tobacco, don't start.
Drink alcohol in moderation, if at all. If you choose to drink alcohol, do so in moderation. For healthy adults, that means up to one drink a day for women and up to two drinks a day for men.
Eat more fruits and vegetables. Add a variety of colorful fruits and vegetables to your diet.
Maintain a healthy weight. If you are overweight or obese, talk to your doctor about strategies to help you lose weight. Aim for a slow and steady weight loss of 1 or 2 pounds a week.
Book Your Appointment Today
Book your appointment with Dr. Ujwal Zambare he is having 12 years of experience in Gastro-intestinal surgery, oncology, minimally invasive surgery and Liver, Pancreas, Biliary tract surgery.

Dr. Ujwal Zambare
MBBS, MS (General Surgery), DNB (Gastrointestinal Surgery)
Fellowship in Minimal Access Surgery
Copyright © 2021. Dr. Ujwal Zambare – Liver, Pancreas, Biliary Tract Surgery Specialist in Pune. | All Rights Reserved.
All Text and Images is for information of Patients and Public and doesn't replace medical practitioners advice. Visit doctor for medical advice.