What is Laparoscopic Appendectomy?
The appendix (uh-PEN-dix) is a narrow, finger-shaped organ located in the lower right side of the belly. It is connected to the large intestine, and has no function in humans. Appendectomy (app-pen-DECK-toe-me) is done as an emergency surgery for appendicitis because the appendix has become inflamed (swollen) and needs to be removed. If it is not removed, it could burst and cause infection called peritonitis (per-i-toe-NY-tus ) in the abdomen.
A laparoscopic (lap-a-ro- SKOPP-ik) or "lap" appendectomy is a minimally invasive surgery to remove the appendix through several small incisions, rather than through one large one. Recovery time from the lap appendectomy is short.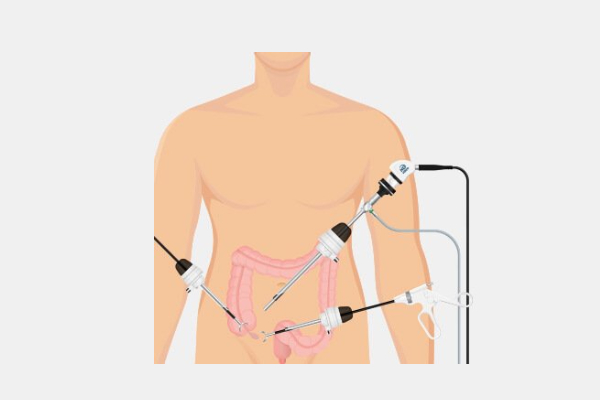 What Happens During Laparoscopic Appendectomy?
A tiny incision will be made for the tube (laparoscope). More cuts may be made so that other tools can be used during surgery.
Carbon dioxide gas will be used to swell up your abdomen so that your appendix and other organs can be easily seen.
The laparoscope will be put in and your appendix will be found.
Your appendix will be tied off with stitches and removed through an incision.
When the surgery is done, the laparoscope and tools will be removed. The carbon dioxide will be let out through the cuts. A small tube may be placed in the cut to drain out fluids.
What Are The Risks of An Appendectomy?
Some possible complications of an appendectomy include:
Bleeding
Wound infection
Infection and redness and swelling (inflammation) of the belly that can occur if the appendix bursts during surgery (peritonitis)
Blocked bowels
Injury to nearby organs
Fast Facts About Laparoscopic Appendectomy
Appendectomy is an operation to remove the appendix when it has become inflamed; an inflamed appendix is called appendicitis
Appendicitis must be treated with surgery right away; if left untreated, the appendix could rupture (burst) and cause a life-threatening or fatal infection.
Your child's surgery will be done under general anesthesia (an-es-THEEZ-ya), which means that he or she will be asleep during the surgery.
The surgery will take about 1 hour.
Your child will most likely go home within 24 to 36 hours after the surgery. If there is infection from the appendix bursting, he or she will be in the hospital from 5 to 7 days.
What Happens After an Appendectomy?
When the appendectomy is over, you'll be observed for several hours before you're released from the hospital. Your vital signs, such your breathing and heart rate, will be monitored closely. Hospital staff will also check for any adverse reactions to the anesthesia or the procedure.
Your overall physical condition
The type of appendectomy performed
Your body's reaction to the surgery
Book Your Appointment Today
Book your appointment with Dr. Ujwal Zambare he is having 12 years of experience in Gastro-intestinal surgery, oncology, minimally invasive surgery and Liver, Pancreas, Biliary tract surgery.

Dr. Ujwal Zambare
MBBS, MS (General Surgery), DNB (Gastrointestinal Surgery)
Fellowship in Minimal Access Surgery
Copyright © 2021. Dr. Ujwal Zambare – Liver, Pancreas, Biliary Tract Surgery Specialist in Pune. | All Rights Reserved.