What Is GERD?
Gastroesophageal reflux disease, or GERD, is a digestive disorder that affects the ring of muscle between your esophagus and your stomach. This ring is called the lower esophageal sphincter (LES). If you have it, you may get heartburn or acid indigestion. Doctors think that some people may have it because of a condition called hiatal hernia. In most cases, you can ease your GERD symptoms through diet and lifestyle changes. But some people may need medication or surgery.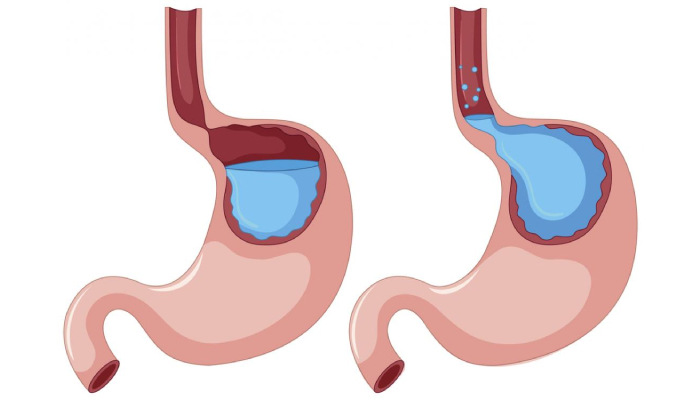 Causes
The term "gastroesophageal" refers to the stomach and esophagus. Reflux means to flow back or return. Gastroesophageal reflux is when what's in your stomach backs up into your esophagus. In normal digestion, your LES opens to allow food into your stomach. Then it closes to stop food and acidic stomach juices from flowing back into your esophagus. Gastroesophageal reflux happens when the LES is weak or relaxes when it shouldn't. This lets the stomach's contents flow up into the esophagus.
Risk Factors
Some doctors believe a hiatal hernia may weaken the LES and raise your chances of gastroesophageal reflux. Hiatal hernia happens when the upper part of your stomach moves up into the chest through a small opening in your diaphragm (diaphragmatic hiatus). The diaphragm is the muscle separating the abdomen from the chest. Recent studies show that the opening in the diaphragm helps support the lower end of the esophagus. Many people with a hiatal hernia will not have problems with heartburn or reflux. But having a hiatal hernia may allow stomach contents to reflux more easily into the esophagus. Coughing, vomiting, straining, or sudden physical exertion can raise pressure in your belly and lead to a hiatal hernia. Many otherwise healthy people ages 50 and over have a small one. Although it's usually a condition of middle age, hiatal hernias affect people of all ages.
Symptoms
The most common symptom of GERD is heartburn (acid indigestion). It usually feels like a burning chest pain that starts behind your breastbone and moves upward to your neck and throat. Many people say it feels like food is coming back into the mouth, leaving an acid or bitter taste. The burning, pressure, or pain of heartburn can last as long as 2 hours. It's often worse after eating. Lying down or bending over can also result in heartburn. Many people feel better if they stand upright or take an antacid that clears acid out of the esophagus. People sometimes mistake heartburn pain for the pain of heart disease or a heart attack, but there are differences. Exercise may make heart disease pain worse, and rest may relieve it. Heartburn pain is less likely to go along with physical activity. But you can't tell the difference, so seek medical help right away if you have any chest pain.
Nausea
Bad breath
Trouble breathing
A hard time swallowing
Vomiting
Wearing away of tooth enamel
Treatments
GERD treatment aims to cut down on the amount of reflux or lessen damage to the lining of the esophagus from refluxed materials.
Antacids: These drugs can help neutralize acid in the esophagus and stomach and stop heartburn. Many people find that nonprescription antacids provide temporary or partial relief. An antacid combined with a foaming agent helps some people. Researchers think these compounds form a foam barrier on top of the stomach that stops acid reflux.
But long-term use of antacids can bring side effects, including diarrhea, altered calcium metabolism (a change in the way the body breaks down and uses calcium), and a buildup of magnesium in the body. Too much magnesium can be serious for people who have kidney disease. If you need antacids for more than 2 weeks, talk to your doctor.
H2 blockers: For chronic reflux and heartburn, the doctor may recommend medications to reduce acid in the stomach. These medicines include H2 blockers, which help block acid secretion in the stomach. H2 blockers include: cimetidine (Tagamet), famotidine (Pepcid), and nizatidine.
Proton pump inhibitors (PPIs): Also known as acid pumps, these drugs block a protein needed to make stomach acid. PPIs include dexlansoprazole (Dexilant), esomeprazole (Nexium), lansoprazole (Prevacid), omeprazole (Prilosec), omeprazole/sodium bicarbonate (Zegerid), pantoprazole (Protonix), and rabeprazole (Aciphex).
Prokinetics: In rare cases, these drugs help your stomach empty faster so you don't have as much acid left behind. They may also help with symptoms like bloating, nausea, and vomiting. But they can also have serious side effects. Many people can't take them, and those who can should do so only for a limited time. Example of prokinetics include domperidone and metoclopramide (Clopra, Maxolon, Metozolv, Reglan).
Book Your Appointment Today
Book your appointment with Dr. Ujwal Zambare he is having 12 years of experience in Gastro-intestinal surgery, oncology, minimally invasive surgery and Liver, Pancreas, Biliary tract surgery.

Dr. Ujwal Zambare
MBBS, MS (General Surgery), DNB (Gastrointestinal Surgery)
Fellowship in Minimal Access Surgery
Copyright © 2021. Dr. Ujwal Zambare – Liver, Pancreas, Biliary Tract Surgery Specialist in Pune. | All Rights Reserved.
All Text and Images is for information of Patients and Public and doesn't replace medical practitioners advice. Visit doctor for medical advice.