Overview
Irritable bowel syndrome (IBS) is a common disorder that affects the large intestine. Signs and symptoms include cramping, abdominal pain, bloating, gas, and diarrhea or constipation, or both. IBS is a chronic condition that you'll need to manage long term.
Only a small number of people with IBS have severe signs and symptoms. Some people can control their symptoms by managing diet, lifestyle and stress. More-severe symptoms can be treated with medication and counseling.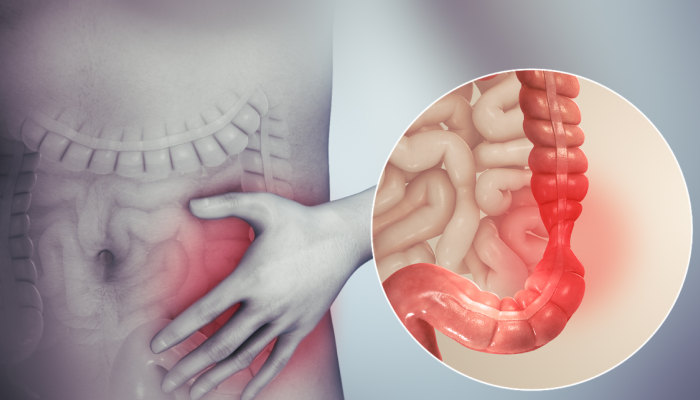 Causes
The precise cause of IBS isn't known. Factors that appear to play a role include:
Muscle contractions in the intestine. The walls of the intestines are lined with layers of muscle that contract as they move food through your digestive tract. Contractions that are stronger and last longer than normal can cause gas, bloating and diarrhea. Weak intestinal contractions can slow food passage and lead to hard, dry stools.
Nervous system. Abnormalities in the nerves in your digestive system may cause you to experience greater than normal discomfort when your abdomen stretches from gas or stool. Poorly coordinated signals between the brain and the intestines can cause your body to overreact to changes that normally occur in the digestive process, resulting in pain, diarrhea or constipation.
Severe infection. IBS can develop after a severe bout of diarrhea (gastroenteritis) caused by bacteria or a virus. IBS might also be associated with a surplus of bacteria in the intestines (bacterial overgrowth).
Early life stress. People exposed to stressful events, especially in childhood, tend to have more symptoms of IBS.
Changes in gut microbes. Examples include changes in bacteria, fungi and viruses, which normally reside in the intestines and play a key role in health. Research indicates that the microbes in people with IBS might differ from those in healthy people.
Risk Factors
Many people have occasional signs and symptoms of IBS. But you're more likely to have the syndrome if you:
Are young. IBS occurs more frequently in people under age 50.
Are female. In the United States, IBS is more common among women. Estrogen therapy before or after menopause also is a risk factor for IBS.
Have a family history of IBS. Genes may play a role, as may shared factors in a family's environment or a combination of genes and environment.
Have anxiety, depression or other mental health issues. A history of sexual, physical or emotional abuse also might be a risk factor.
Symptoms
Abdominal pain, cramping or bloating that is related to passing a bowel movement
Changes in appearance of bowel movement
Changes in how often you are having a bowel movement
IBS Diagnosis
Your doctor may be able to diagnose IBS based on your symptoms. They may also take one or more of the following steps to rule out other possible causes of your symptoms:
Have you adopt a certain diet or cut out specific food groups for a period to rule out any food allergies
Have a stool sample examined to rule out infection
Have blood tests done to check for anemia and rule outceliac disease
Perform a colonoscopy
Book Your Appointment Today
Book your appointment with Dr. Ujwal Zambare he is having 12 years of experience in Gastro-intestinal surgery, oncology, minimally invasive surgery and Liver, Pancreas, Biliary tract surgery.

Dr. Ujwal Zambare
MBBS, MS (General Surgery), DNB (Gastrointestinal Surgery)
Fellowship in Minimal Access Surgery
Copyright © 2021. Dr. Ujwal Zambare – Liver, Pancreas, Biliary Tract Surgery Specialist in Pune. | All Rights Reserved.
All Text and Images is for information of Patients and Public and doesn't replace medical practitioners advice. Visit doctor for medical advice.