What is a Hiatal Hernia?
A hiatal hernia is a condition where the top of your stomach bulges through an opening in your diaphragm. This can happen to people of any age and any gender. A hiatal hernia doesn't always have symptoms, but when it does they are similar to the symptoms of GERD. A hiatal hernia occurs when the upper part of the stomach pushes through an opening in the diaphragm and into the chest cavity. The diaphragm is the thin muscle wall that separates the chest cavity from the abdomen. The opening in the diaphragm is where the esophagus and stomach join.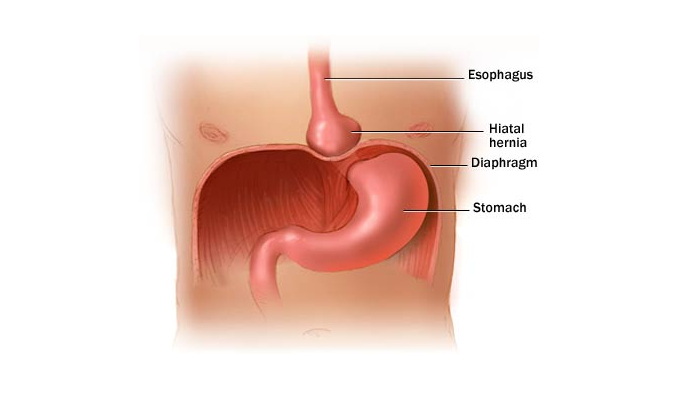 Who is at Risk for Developing a Hiatal Hernia?
The main cause of stomach cancer is a genetic mutation (change) in the cells of the stomach, which causes the cells to grow rapidly and eventually form a tumor. Risk factors that can increase a person's chance of getting stomach cancer include:
What Causes a Hiatal Hernia?
The most common cause of a hiatal hernia is an increase in pressure in the abdominal cavity. Your abdominal cavity is the space in the middle of your body that holds several organs, including the:
Lower part of the esophagus and stomach.
Small intestine, colon and rectum.
Liver.
Gallbladder, pancreas and spleen.
Kidneys.
Bladder.
What are the Symptoms of a Hiatal Hernia?
Many people with a hiatal hernia never have symptoms. Some people with hiatal hernia have some of the same symptoms as gastroesophageal reflex disease (GERD). GERD occurs when digestive juices move from the stomach back into the esophagus. Symptoms of GERD include:
Heartburn.
Bitter or sour taste in the back of the throat.
Bloating and belching.
Discomfort or pain in the stomach or esophagus.
How is a Hiatal Hernia Treated?
Most hiatal hernias do not cause problems and rarely need treatment. However, since some patients with a hiatal hernia have symptoms of GERD, treatment starts with methods used to manage GERD. These include making such lifestyle changes as:
Losing weight if you're overweight.
Decreasing the portion sizes of meals.
Avoiding certain acidic foods—such as tomato sauce and citrus fruits or juices—that can irritate the esophageal lining.
Limiting fried and fatty foods, foods or drinks containing caffeine (including chocolate), peppermint, carbonated beverages, alcoholic beverages, ketchup and mustard, and vinegar.
Eating meals at least three to four hours before lying down, and avoiding bedtime snacks.
Book Your Appointment Today
Book your appointment with Dr. Ujwal Zambare he is having 12 years of experience in Gastro-intestinal surgery, oncology, minimally invasive surgery and Liver, Pancreas, Biliary tract surgery.

Dr. Ujwal Zambare
MBBS, MS (General Surgery), DNB (Gastrointestinal Surgery)
Fellowship in Minimal Access Surgery
Copyright © 2021. Dr. Ujwal Zambare – Liver, Pancreas, Biliary Tract Surgery Specialist in Pune. | All Rights Reserved.
All Text and Images is for information of Patients and Public and doesn't replace medical practitioners advice. Visit doctor for medical advice.